Jeff Van Gundy: An NBA G League And Development Advocate
The reported Rockets coaching candidate has recent experience coaching minor league athletes and his respect for the work they put in is at an all-time high.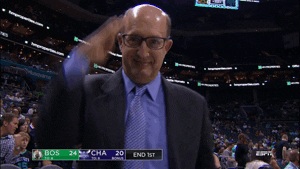 Patrick Ewing. Yao Ming. Tracy McGrady. Dikembe Mutombo. In a decade of NBA head coaching, Jeff Van Gundy was certainly around his fair share of quality players, let alone Hall of Famers. High profile players bought in and he continuously guided his teams to the promise land. Through stints with the Knicks and Rockets, Van Gundy's squads made the postseason nine out of ten seasons, including an NBA Finals appearance by the Knicks in 1999.
More than ten years removed from his last NBA coaching job, Van Gundy is an ever-popular broadcaster with a comfortable gig on ESPN. Even if he has an eye on a potential return to coaching, one would think that given his past success and current comfort, any enticing scenario would have to boast a "win-now" situation.
Van Gundy's reported candidacy for the Rockets' head coach vacancy would certainty fit that bill. Should he earn that job, Van Gundy would be welcomed to town by two future Hall of Famers in James Harden and Russell Westbrook. This team is hungry to win big and the pressure would be on.
But if you think Van Gundy would turn a blind-eye to end-to-end player development along the way, think again.
The longtime NBA coach turned broadcaster assumed the role of Team USA head coach in recent years, guiding the squad through the 2017 FIBA AmeriCup (where they won the gold medal) and the qualifying matches for the 2019 FIBA World Cup. Since the NBA season was in session during both instances, Van Gundy's teams were mostly highlighted by NBA G League athletes. Though he was used to being surrounded by some of the game's biggest names as an NBA head coach, Van Gundy took rather kindly to these hungry youngsters still climbing the ladder and getting that initial taste of professional success.
Since then, Van Gundy has become one of the NBA G League's biggest advocates with immense respect for its rising athletes. As Team USA coach, he was welcoming NBA scouts inside practices to get a closer look at the grind and dedication of the youngsters. He's constantly talking up their abilities, whether that be behind the scenes to NBA officials, or on air at ESPN so that casual fans can catch on.
"I'd be remiss if I didn't talk about a guy that played for USA Basketball last fall in Ben Moore, who is on the Indiana Pacers," Van Gundy said during a November 2018 broadcast. "That guy [is a] straight winner. He can be on any team in the NBA. Energy, passion, enthusiasm, defense, tenacity, rebounding, he's working diligently on his shooting. Tough, hard nosed, nasty competitor."
When Moore found himself looking for NBA work just three weeks later, the Spurs signed him to a Two-Way contract for the 2018-19 season.
Just a few months later, Van Gundy found himself back in the Team USA coaching chair at the 2019 qualifiers. His team was winning, but the coach beamed with pride when addressing another accomplishment.
"I hope [winning] also gets those guys more recognition for how good they are. We had a guy, Cam Reynolds, pulled up on a 10-day (NBA contract) right after the game," he said (via USA Today). "We want to win, but we also want to help these guys and put them in a position to help their careers. Often, these guys are so good, but they go unnoticed."
Reynolds received a look from the Timberwolves, and spent this past season on a Two-Way contract with the Bucks.
Back in January 2018, Reggie Hearn signed a Two-Way contract with the Pistons. Though he had hadn't played for the Pistons' minor league affiliate, the team had familiarity with him already. Hearn had played for Van Gundy with Team USA just months prior, and the coach had been in his brother Stan's (then head coach of Detroit) ear singing Hearn's praises.
"When I was playing in the FIBA qualifiers back around Thanksgiving time with Jeff, he had a Pistons scout there. The scout had spoken with me, told me to keep working, and that I was a NBA player," Hearn said (via The Athletic). He later added, "I did know that the connection between Jeff and Stan was there. I know Jeff has been (lobbying) pretty hard for me. Anytime he talks about me on a newscast or during a game I have a lot of people from home letting me know."
"This isn't the D-League from 10 years ago or the CBA from 20 years ago; it's a much better, more organized and highly structured league that has specific things that they are trying to do, which is help better the game for the NBA level. They're doing a very good job of it," Van Gundy said shortly after Hearn's NBA Call-Up (via the NBA G League).
The Rockets coaching candidate's respect for NBA G League athletes continues to grow, and he's constantly using his platform as a broadcaster and respected basketball mind to push for better opportunities for them. The business of basketball can be intense for any athlete. When adding on the grit and grind that minor league players endure with more uncertain futures, Van Gundy has also made a point of looking out for their well-being.
Perhaps that's part of why Van Gundy has had past success and is as highly regarded as he is. He invests in his players from top to bottom, from all backgrounds, recognizes their efforts, and ultimately gets them to buy in under the belief that he has their best interests in mind and at heart.
It's easy to understand why success would follow.